October 11–13, 2019
Conway, Massachusetts
It's happening again!
I am opening up my studio on October 12, and it is my pleasure to invite you to the woods of Western Mass for an informal hangout filled with fun, fonts, flora, and fauna.
We had a great time in March, and I'm excited to do it again. Feel free to just stop by on Saturday afternoon, or to make a whole weekend out of it!
Activities will include...
✒️

Work on something cool: Give yourself an excuse to work on a side project and chat about it with other fonty people.

👀

Mini-presentations: Attendees are welcome (but not required!) to give a 20-minute presentation on a subject of particular typographic interest.

🌳

Hiking: Get some fresh air and explore the trails. Take a 35 minute walk down to Baker's, the General Store in town, to get a cup of coffee and a sweet.

🍏

Fall stuff: Apple picking, or something similar, maybe?

📚

Type specimens: Find inspiration by browsing type specimen books, both old and new.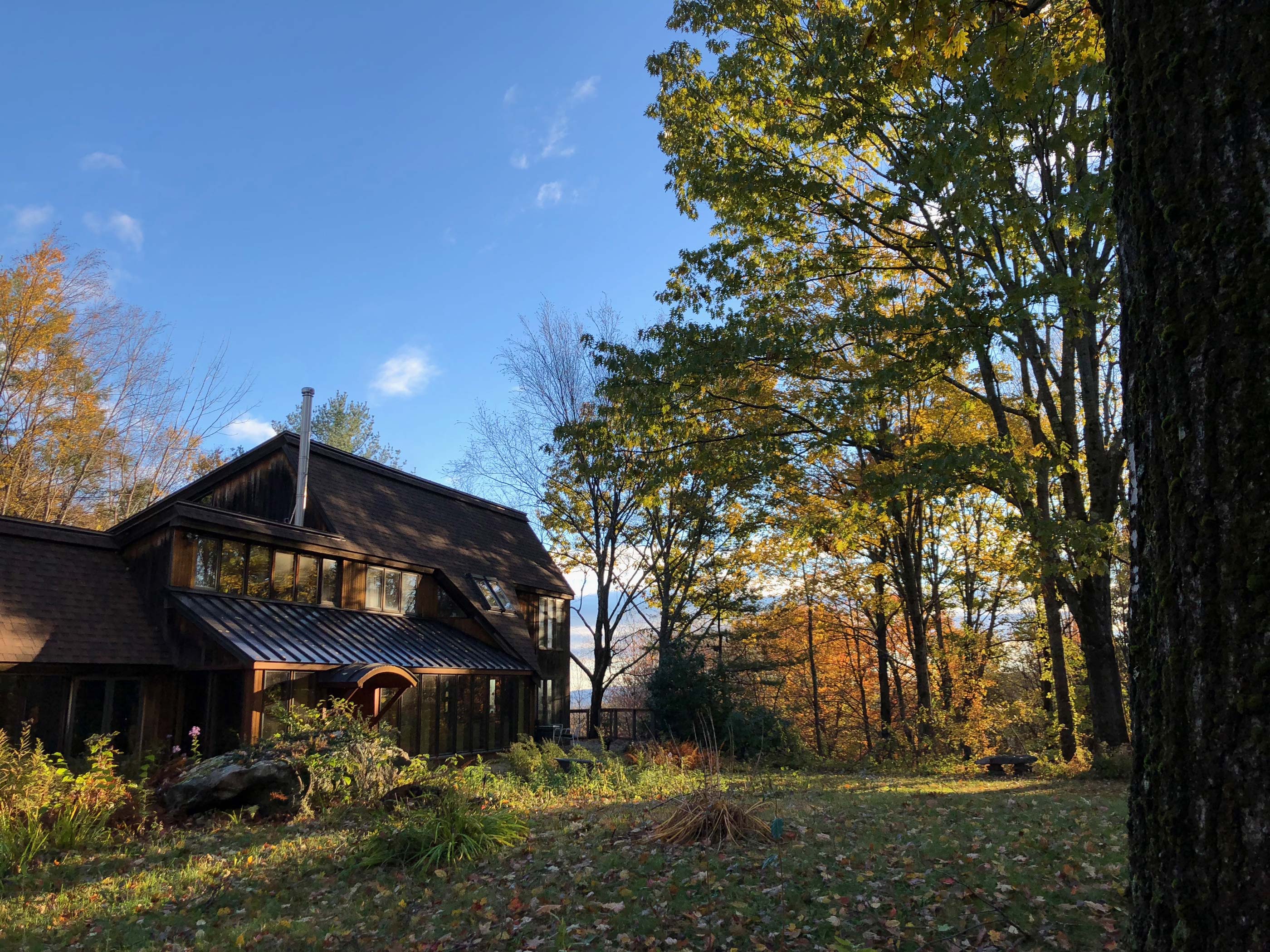 The Venue
The venue is my home studio off of scenic Route 116 in the small town of Conway, Massachusetts. Formerly occupied by a landscape design school, the building is perched on a ridge above town and surrounded by acres of forest for you to explore, with farms, pastures, and wetlands nearby.
The Schedule
The main event is on Saturday afternoon/evening, but you're welcome to come and go as you please.
Friday, October 11
2:45pm

Peter Pan Bus arrives in Northampton from Boston

4pm

Amtrak arrives in Northampton from NYC

5pm

Arrive at house (if you want to hang before the Conway Inn)

5:15pm

Depart house for walking tour, weather permitting

6:30pm

Quick stop at Conway Historical Society (100 Main St)

6:45pm

Pizza and drinks at the Conway Inn (43 Main St)

8:00pm

Live bluegrass at the Conway Inn
Saturday, October 12
8am

Coffee, tea, light breakfast

10am

Depart for apple picking, weather permitting

10:30am

Apple picking at Apex Orchards (map)

1pm

Lunch at house (catered by Amanouz Café)

1pm

Open studio time

4pm

Mini-presentations

7pm

Dinner (catered by Baker's Country Store)

8pm

Drinks and hangout
Getting Here
🚗

If you have a car, there is plenty of parking at the venue. It's about a 3–4 hour drive from New York, 2–2.5 hours from Boston, and 45 minutes from Springfield. Note that the map above gives directions to the center of town; I will send you detailed directions to my house after you sign up.

🚌

There is no public transit in Conway. I know. The closest cities are Northampton and Greenfield, both of which are serviced by Peter Pan Bus (from Boston and New York) and the once-daily Amtrak Vermonter Line (only New York). I'll be able to take a carful of people to and from the venue, but I can't guarantee that I'll be able to give everyone a ride.
Staying Here
If you want to use this as an excuse to spend a weekend in the country, I'm happy to help you make that happen!
The closest hotel is the Red Roof Inn Plus in Deerfield, and there are a handful of other inns and airbnbs in the surrounding towns. I also recommend the Woolman Hill Quaker Retreat if you're looking for something unique.
For those prefer to stay at the venue and save a little cash, I can probably have up to eight people crash here at the house, especially if you're willing to share a room, bring a sleeping bag, or stay on a couch. First come, first serve. Be warned: accommodations will be rustic! Update: it looks like the house is pretty full, so I recommend getting a place nearby. I can help you coordinate if you want to share with another attendee.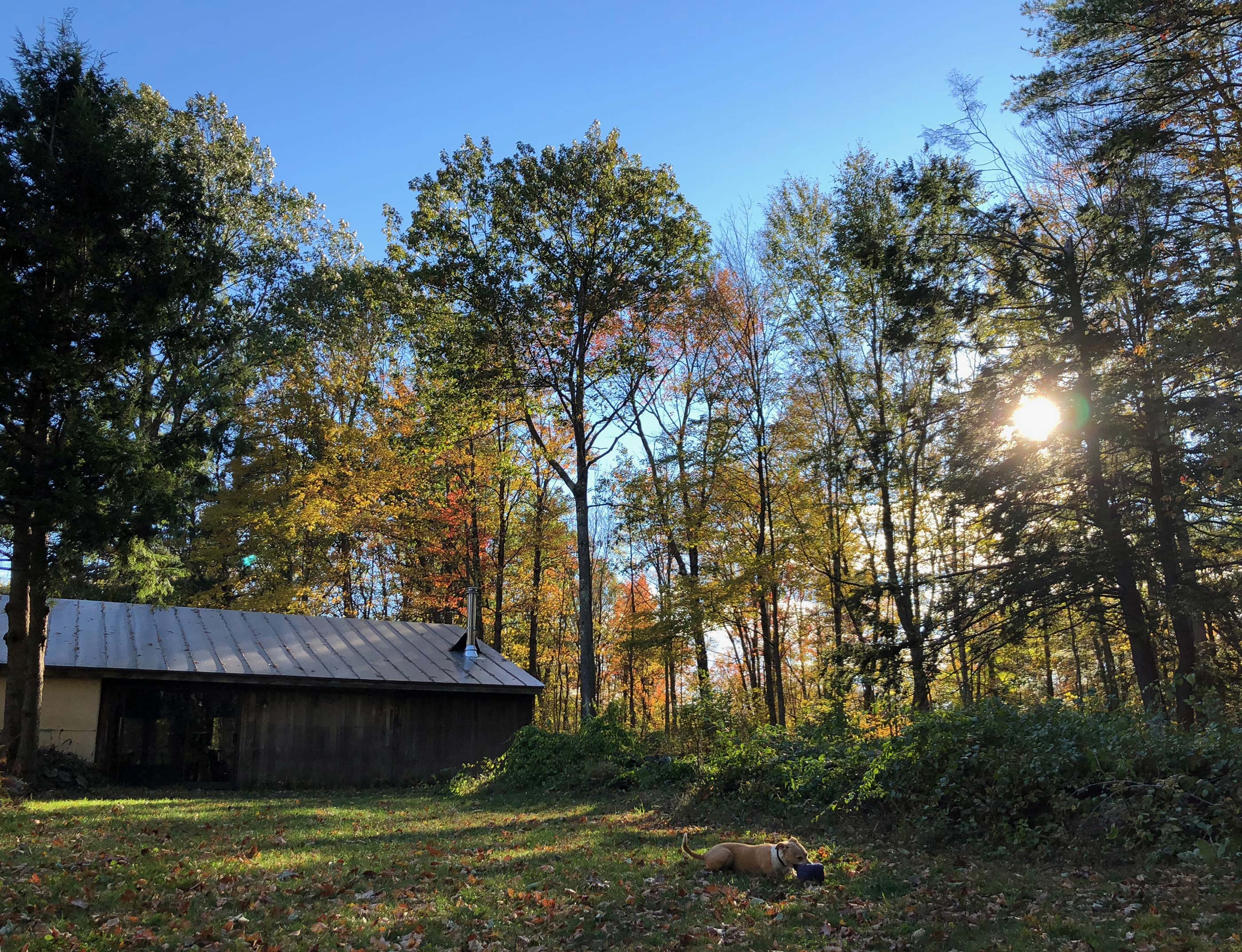 Disclaimers
⛈

Autumn in New England can be described as somewhere between crisp and moist. Inclement weather might affect our plans (especially the outdoor stuff), and the schedule may change accordingly.

🐶

I have two dogs who are super friendly but also a bit rambunctious...you may get barked at a little, and you will probably get dog hair all over your clothes.

🚿

There's still only one shower here. We will make it work!

👟️

The top of the hill is not paved, so sturdy footwear is recommended.

📶

Manage your expectations regarding cell phone reception and wifi speeds. There is usually okay cell service in the house itself, but not so much in the driveway or in other parts of town.

🇹🇭

This is happening the same weekend as BITS in Chiang Mai. If you have the opportunity to go to that, don't you dare come here! And if you plan on coming from far away (as in, flying), maybe get in touch first to make sure it is worth your while.
And Also...
Costs: The Open Studio is a free event, though there might be costs associated with outings or meals. If you'd like to contribute some money, I will put together a list of type-related causes for us to contribute to.
Food & drink: I will provide light snacks and drinks throughout the day, as well as a dinner for those who stick around. Feel free to let me know if you're looking for anything in particular, or to BYOB if you plan to stay into the evening.
Accessibility: The first floor of the house is surprisingly wheelchair accessible for a New England home, with an accessible restroom but no shower. The studios are also accessible but require going outside to get back inside. All outdoor activities are entirely optional, and I will do my best to adapt the event to meet your needs.
Code of conduct: Even though this isn't really a conference, I still feel it is important to have a code of conduct that ensures that all are treated with respect. This stuff should be obvious, but it should not go unstated. By attending, you agree to abide by this code of conduct.