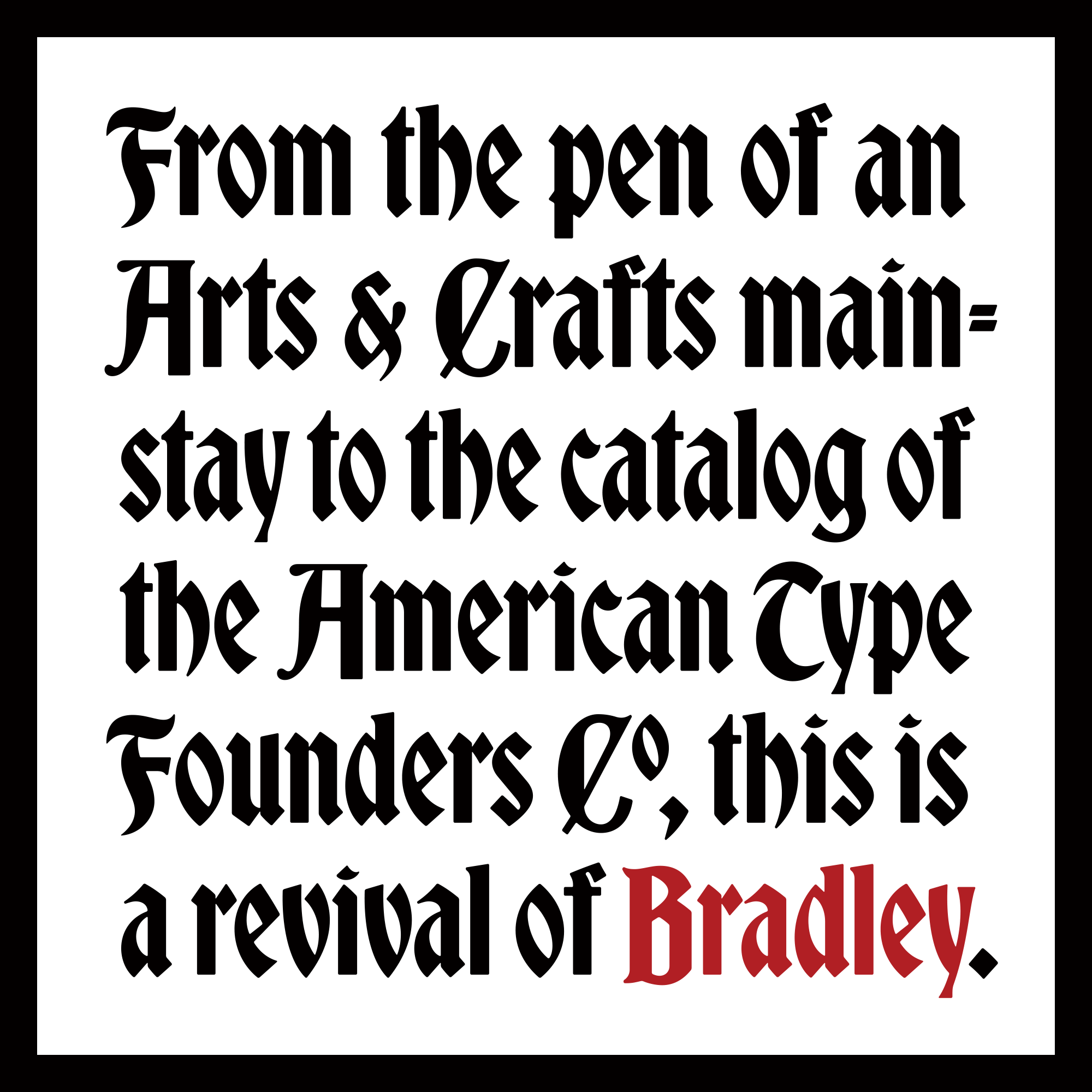 A blackletter has been on my Font of the Month Club bucket list since the beginning. So this month I am very happy to cross that off the list and to send the Font of the Month Club a revival of Bradley, an unusual blackletter published in 1895.
I'll confess to not knowing much about drawing blackletters, so this was an opportunity for me to learn by diving deep into an peculiar design and trying to make some sense of it. I've felt a connection to this typeface for a while, which intensified when I learned that its namesake, Will H. Bradley, was living and working in Springfield, Massachusetts at the time of its publication (not so far from where I live now!).
At the time, Bradley had been making a name for himself with work that blended the historicism of the Arts & Crafts movement with the expressive lines of Art Nouveau. In 1894, he illustrated and lettered an incredible series of covers for The Inland Printer, a trade magazine for the printing industry, including the Christmas issue pictured below.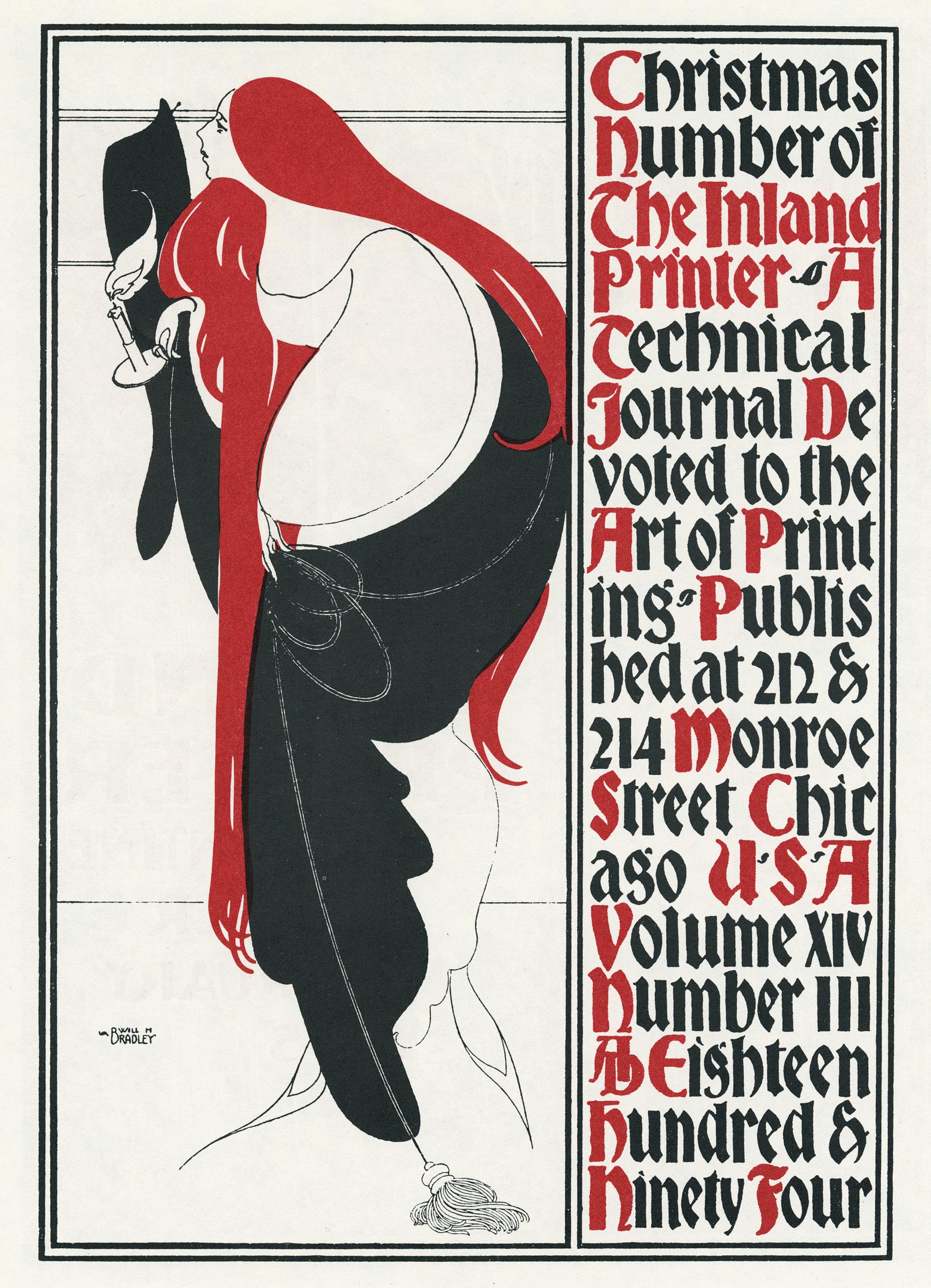 The unusual blackletter on that cover must have caught the eye of someone at the recently-formed American Type Founders Company and they promptly licensed the design. Most sources point to Hermann Ihlenburg as the person responsible for transforming it from a piece of lettering into a full-fledged type design. (Longtime club members might remember Ihlenburg as the as the designer of Crayon, the precursor to my last revival, Crayonette.)
As we type designers tend to do, Ihlenburg regularized the shapes in Bradley's lettering, and the choices I made in my digitization certainly continue that trend. The simplified, unadorned letterforms made it more accessible to American readers unaccustomed to blackletter. And Bradley's style has a vibe that is quite distinct from other blackletters: it is more antique store than heavy metal album, more fantasy storybook than medieval manuscript...after all, it was the choice for the Sleeping Beauty storybook in Disneyland's famous castle! 🏰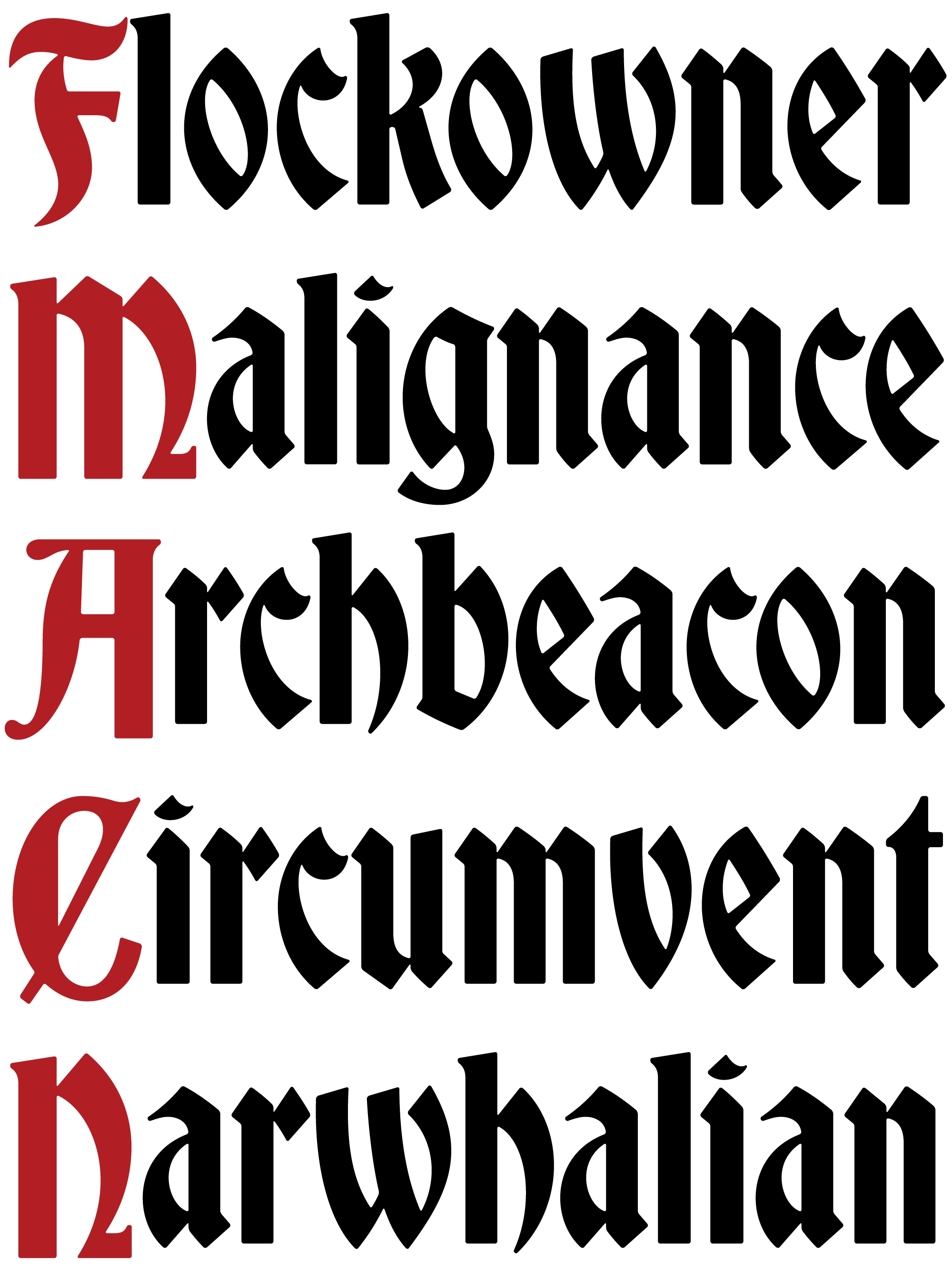 I should point out that I'm not the only person to attempt a digitization of this typeface, but the others weren't quite doing it for me. They were drawn with super-crisp edges and the result just felt too digital (in the direction of Emigre's Totally Gothic). To me, the paradox of a blackletter like this one is that it can have so many corners but it somehow never feels sharp.
Following the strategy that Roger Black and I employed in our revival of Forma, I drew Bradley DJR with subtle rounding that gives some more substance to those corners, not exactly mimicking the blotting of printed foundry type but certainly paying homage to it. I also tried my hand at a variable Optical Size axis that spans ATF's original range of sizes, from 60pt headlines to teensy 6pt text (a Micro version is a rarity for digital blackletters).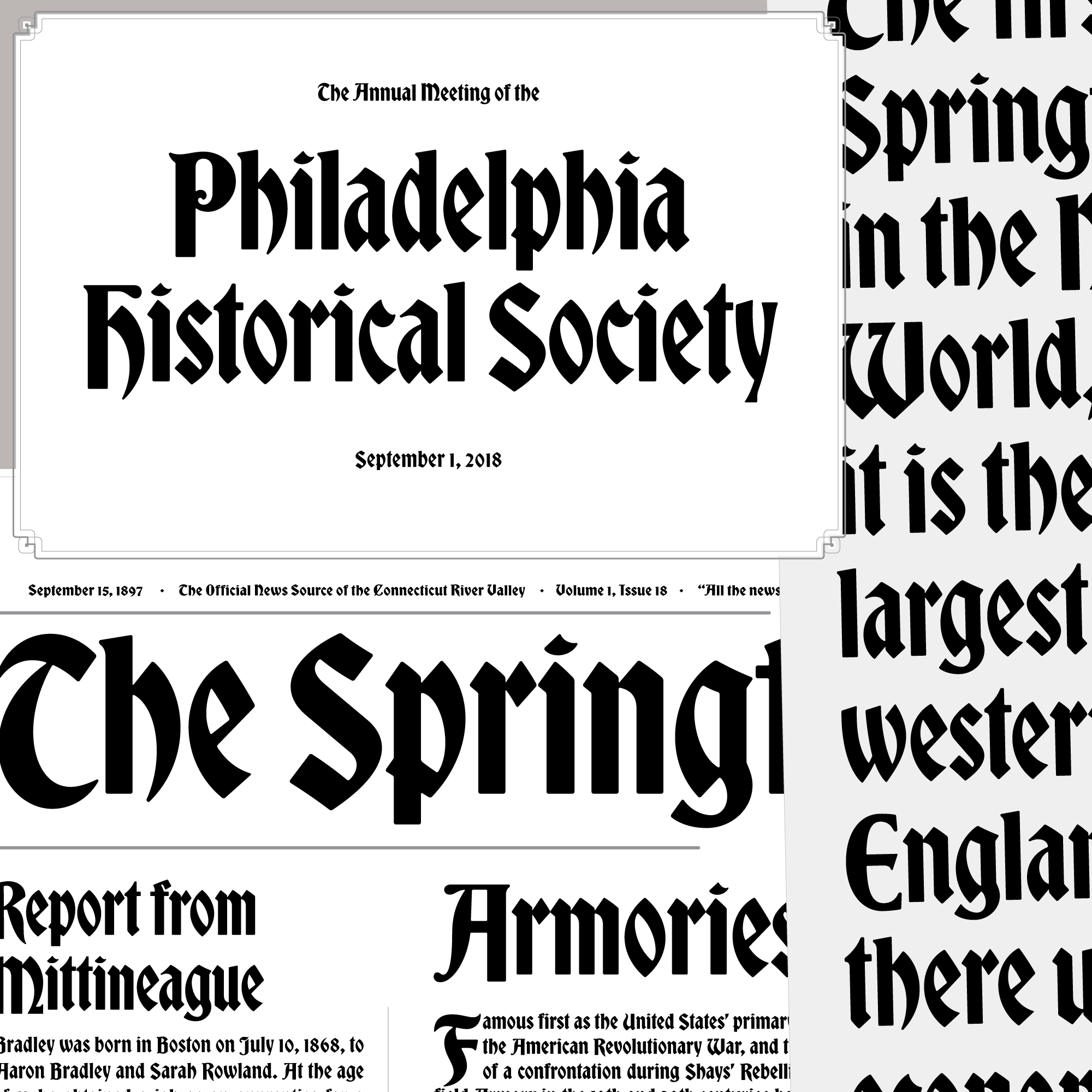 One other feature I'll call your attention to are the special German characters, which ATF issued a few years later under the name Ihlenburg. This includes some digraphs such as ch and ck, a long s and tailed z, and of course the ß that joins them together.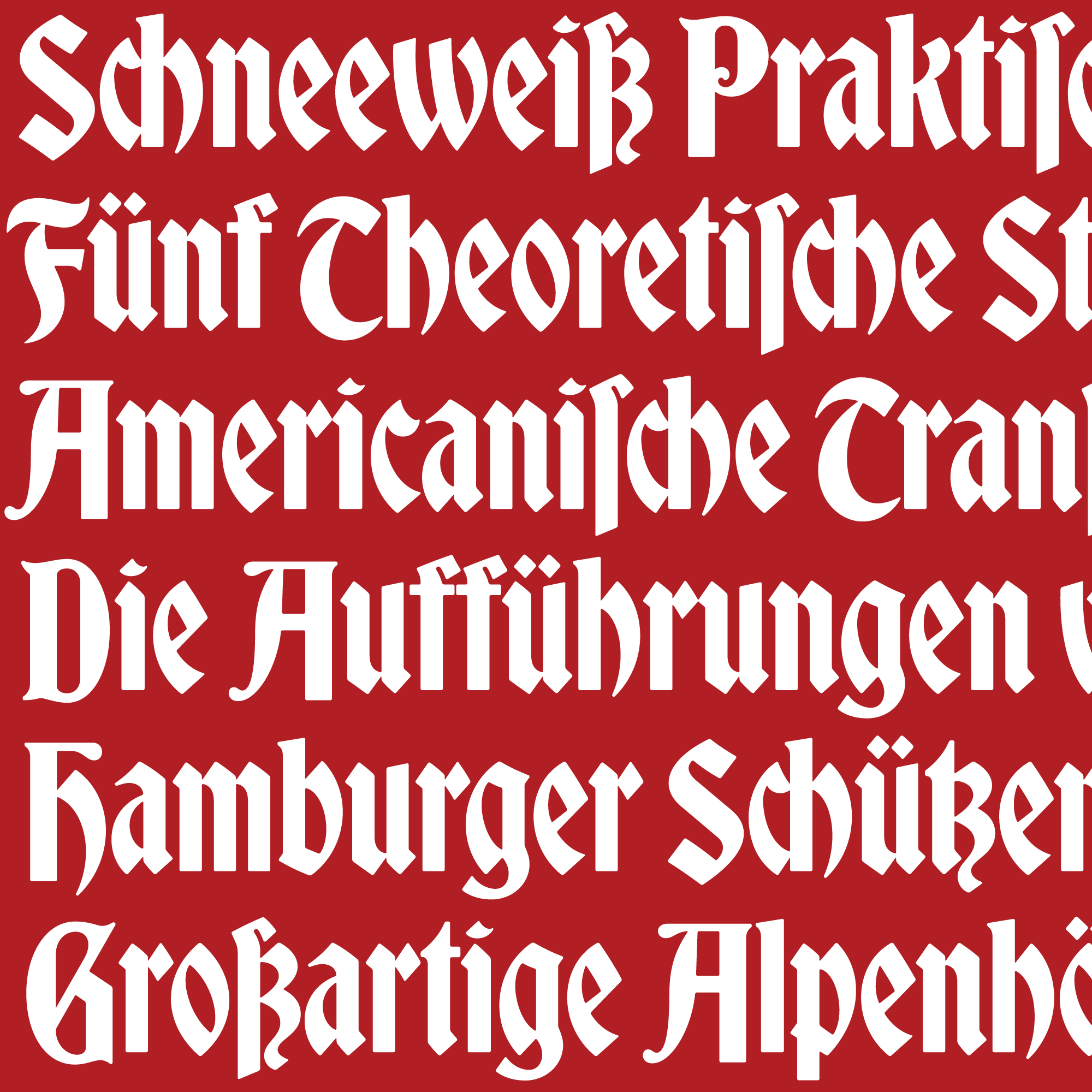 For those of you who have admired Bradley in the old specimen books, I hope you think this little revival does it justice. And I'm excited for everyone else to get to know the design. A fairytale blackletter might not be among your usual go-to typefaces, but it can't hurt to have one in your back pocket! 😃
You can see more examples of Bradley DJR in the PDF specimen, and you can get your copy today by joining the Font of the Month Club!
Special thanks to Stephen Coles, Kent Lew, Dan Reynolds, Laura Serra, and Nick Sherman for providing information and advice on this project.