Here are some more images of Oded Ezer's Hebrew expansion for Fit!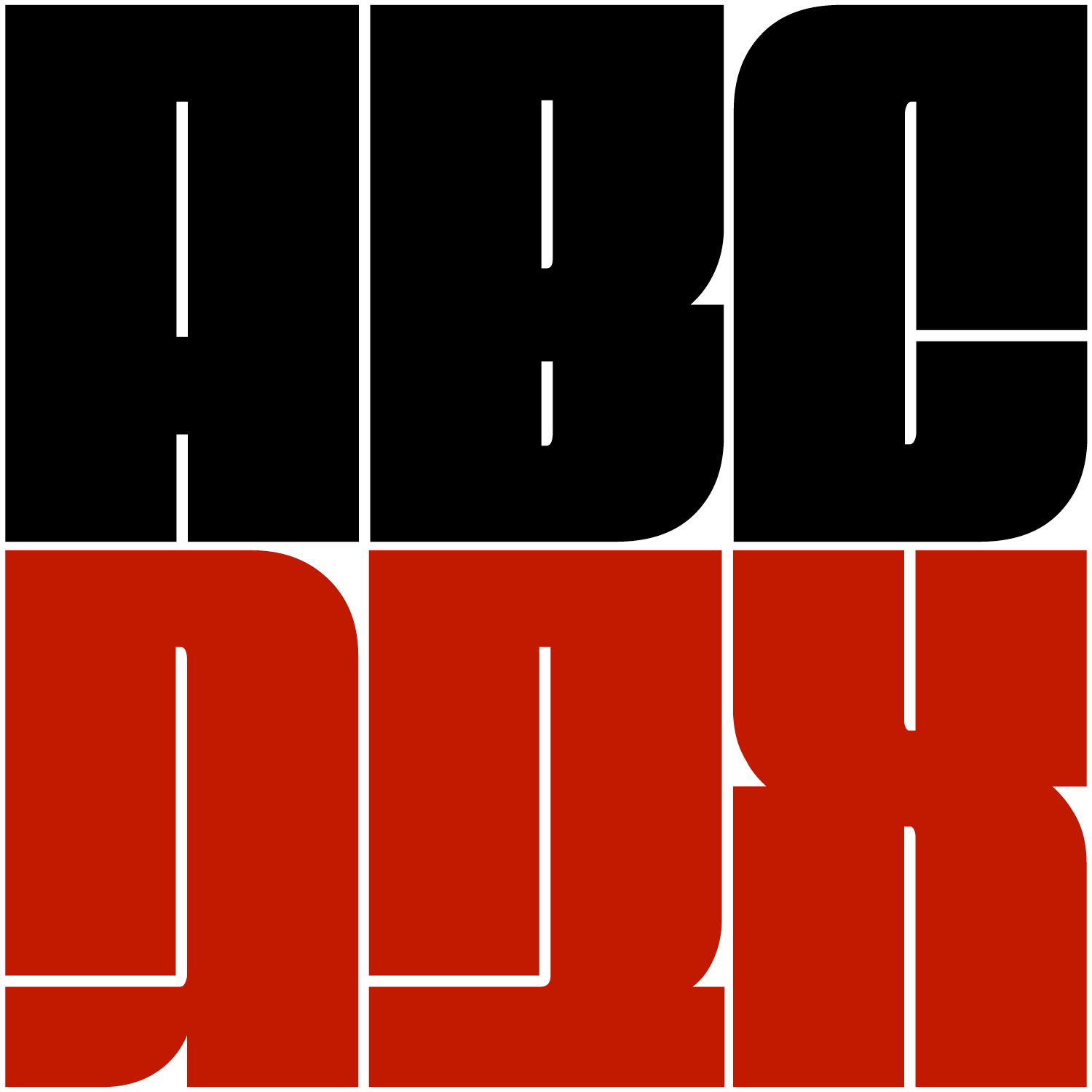 Israeli designer Oded Ezer and I are very excited to announce Fit Hebrew, a Hebrew-language expansion that Oded drew for my typeface Fit.
Using my Latin version as a starting point, Oded adapted Fit's rigid design to suit the needs of the Hebrew alphabet. Taking into account the squareness of the letterforms and the direction in which they open, Ezer sensitively applied Fit's system of alternating curves and corners. And just as my Latin mixes uppercase and lowercase forms to take up more space, Fit Hebrew seamlessly mixes block and cursive forms. Ezer pushes Fit's Hebrew alphabet to surprising extremes, making it an unforgettable and adaptable tool for titling and poster work.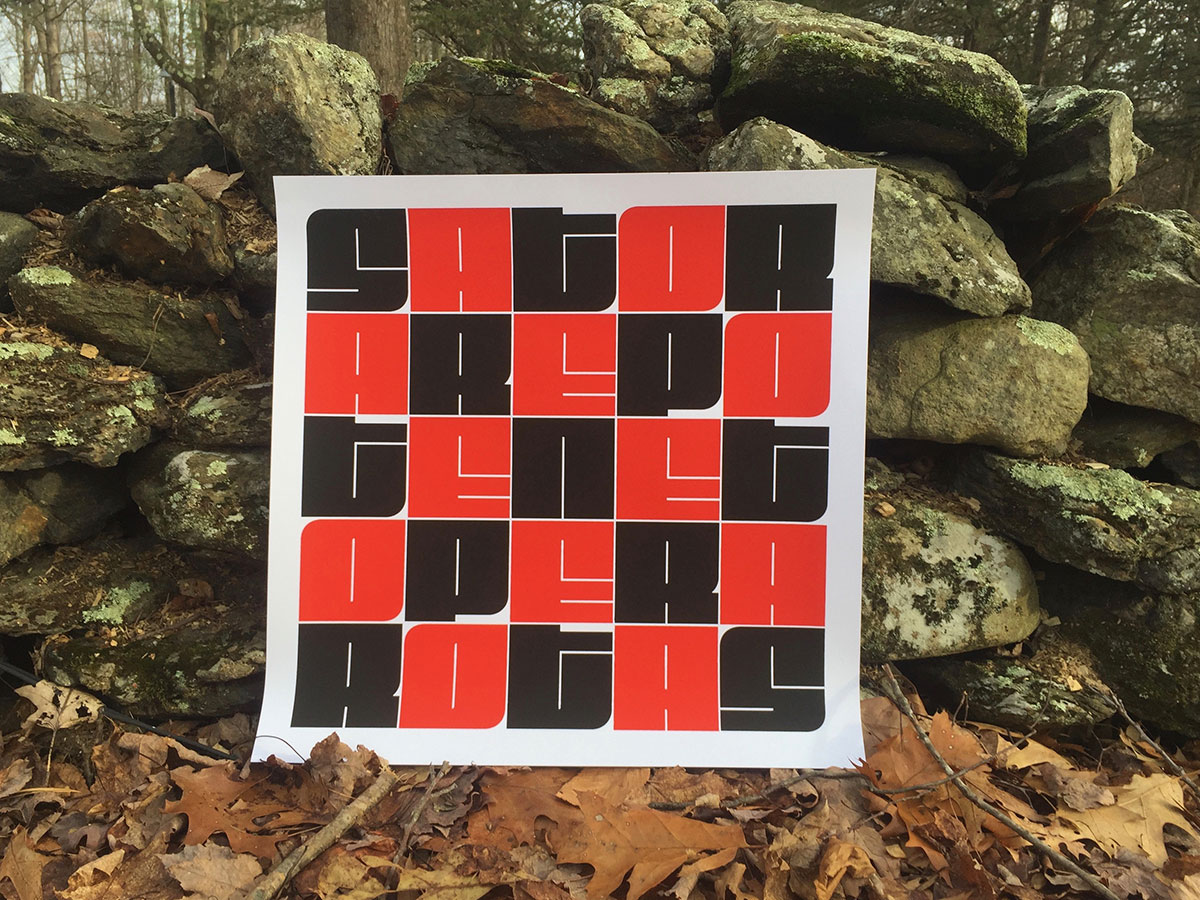 But wait…there's more! To celebrate Fit's first birthday, I'm also giving away this poster of Fit's Sator Square to all Fit licensees who want one. You can also purchase the poster separately for $15.
A look at January's Extraordinaire
It's hard to believe we are already halfway through January. Here's a bit more on the design of Extraordinaire, this month's font for the Font of the Month Club.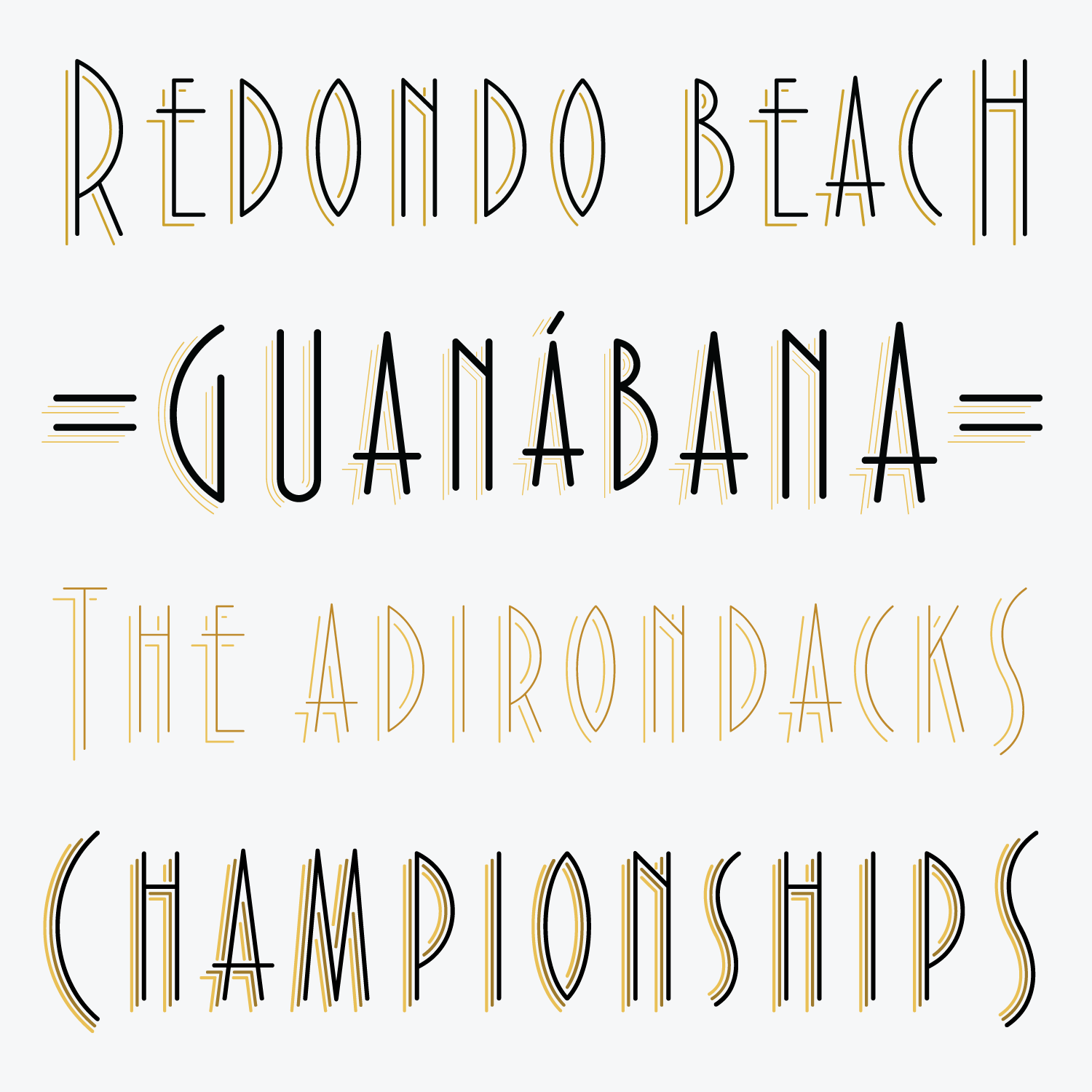 When I started my typeface Bungee in 2011, I originally drew its shade as a simple "pin-line" stroke. This turned out to be a lot more difficult than I anticipated; because the shade never touches the letterform, it was hard to know how to end the stroke or what to do when one disappeared behind a curve. In the end, I was never able to get this to feel right for Bungee, and eventually abandoned it in favor of a more conventional drop-shade. But I didn't let go of the idea.

I figured that a single-stroke shade might work better with a single-stroke typeface, but there's just one problem: hairlines can be kinda boring. So much of what I love about drawing type comes from the contrast of thick and thin, and a hairline has none of that.
So I looked to Art Deco, as practitioners of this style did a ton of weird, interesting stuff with the skeletons of letters. I confess I am a sucker for their high and low waists, exaggerated proportions, and letters like C and S that can get so narrow that they almost disappear.
I found the final piece of the puzzle just last month during a visit to São Paulo for the amazing DiaTipo conference. Wandering past beautiful Art Deco buildings in the city center, I kept seeing this diamond-shaped O appearing in the signage above the doorways. It dawned on me that a pin-line shade would never have to awkwardly disappear behind an O with pointy tops and bottoms, so it would always feel well-defined.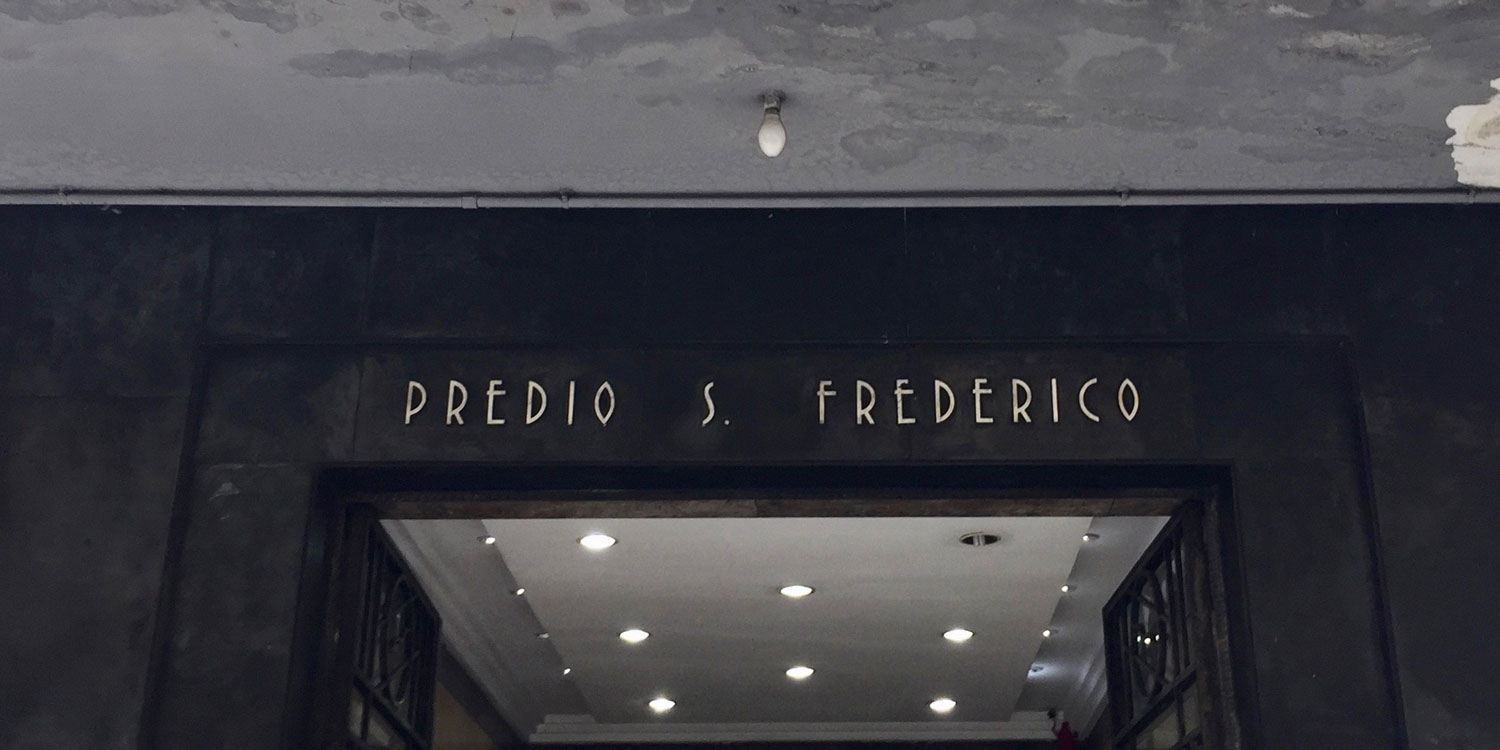 Out of all this comes Extraordinaire, my proof-of-concept for a variable single-stroke shade. Not unlike my revival of Crayonette, its capitals descend below the baseline so that the small caps are vertically centered. The round endings of the strokes give the face a breezy, informal look that is distinct from the sharpness that I usually associate with Art Deco.
One last thing: Extraordinaire is meant to be used big. Super thin strokes can be tricky to work with and are always a challenge for printers and rendering engines. I hope that club members will take advantage of Extraordinaire's adjustable weight and shade distance; by using its assortment of styles and/or its variable fonts, you can maintain a consistent stroke weight across different sizes, or layer multiple shades together to create a variety of dazzling effects.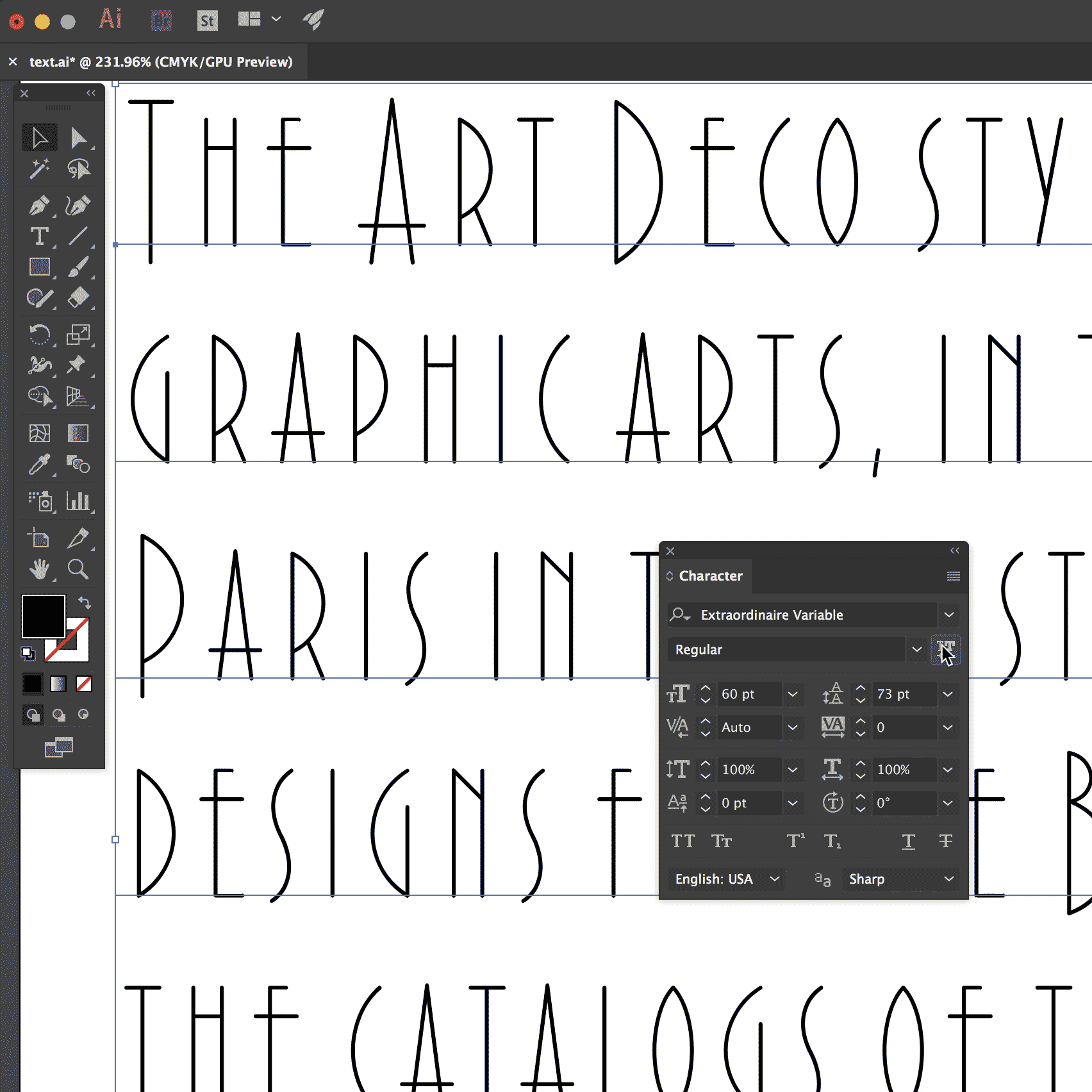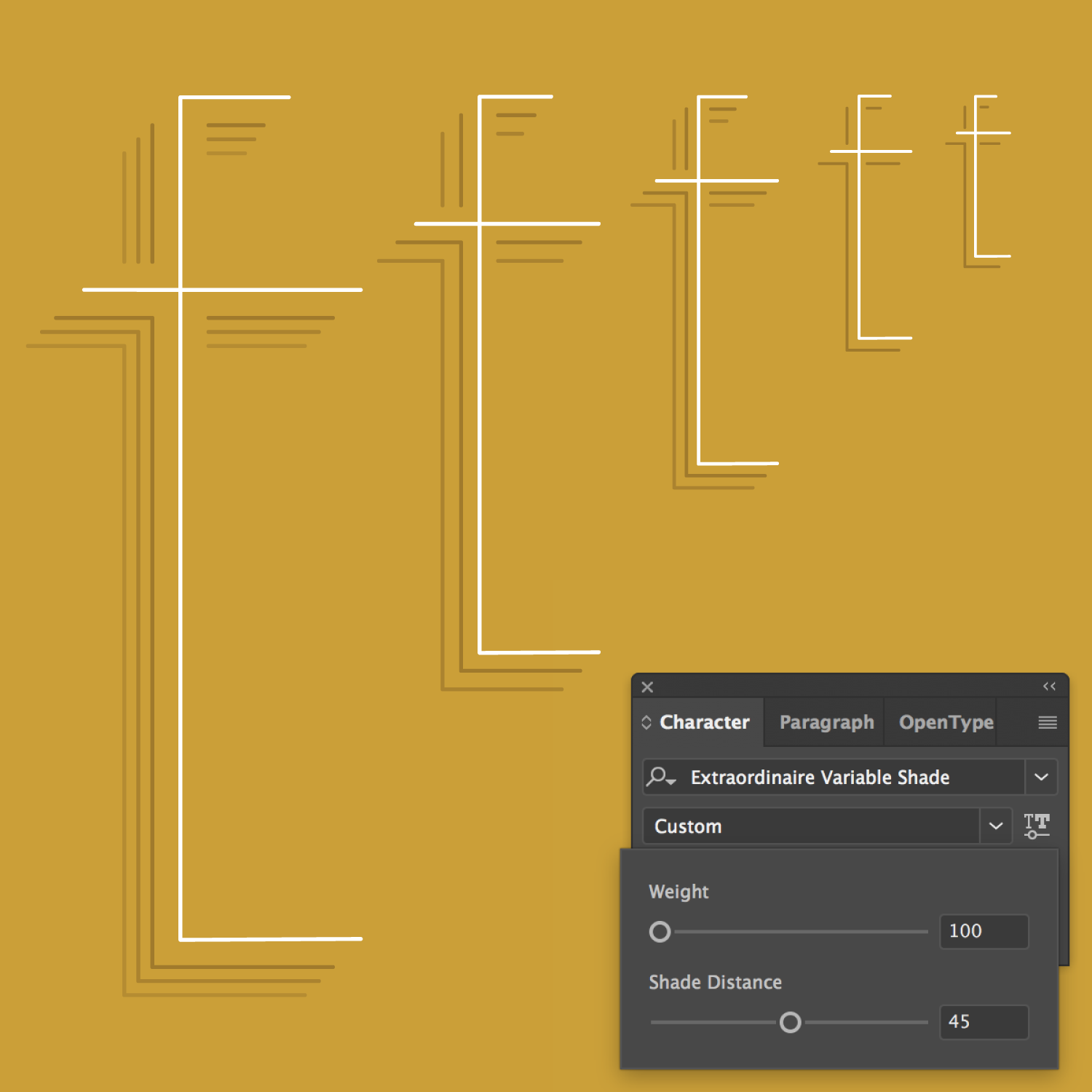 That's all for January! If you aren't already a member, I hope you'll consider joining Font of the Month Club and putting this font to some extraordinary use!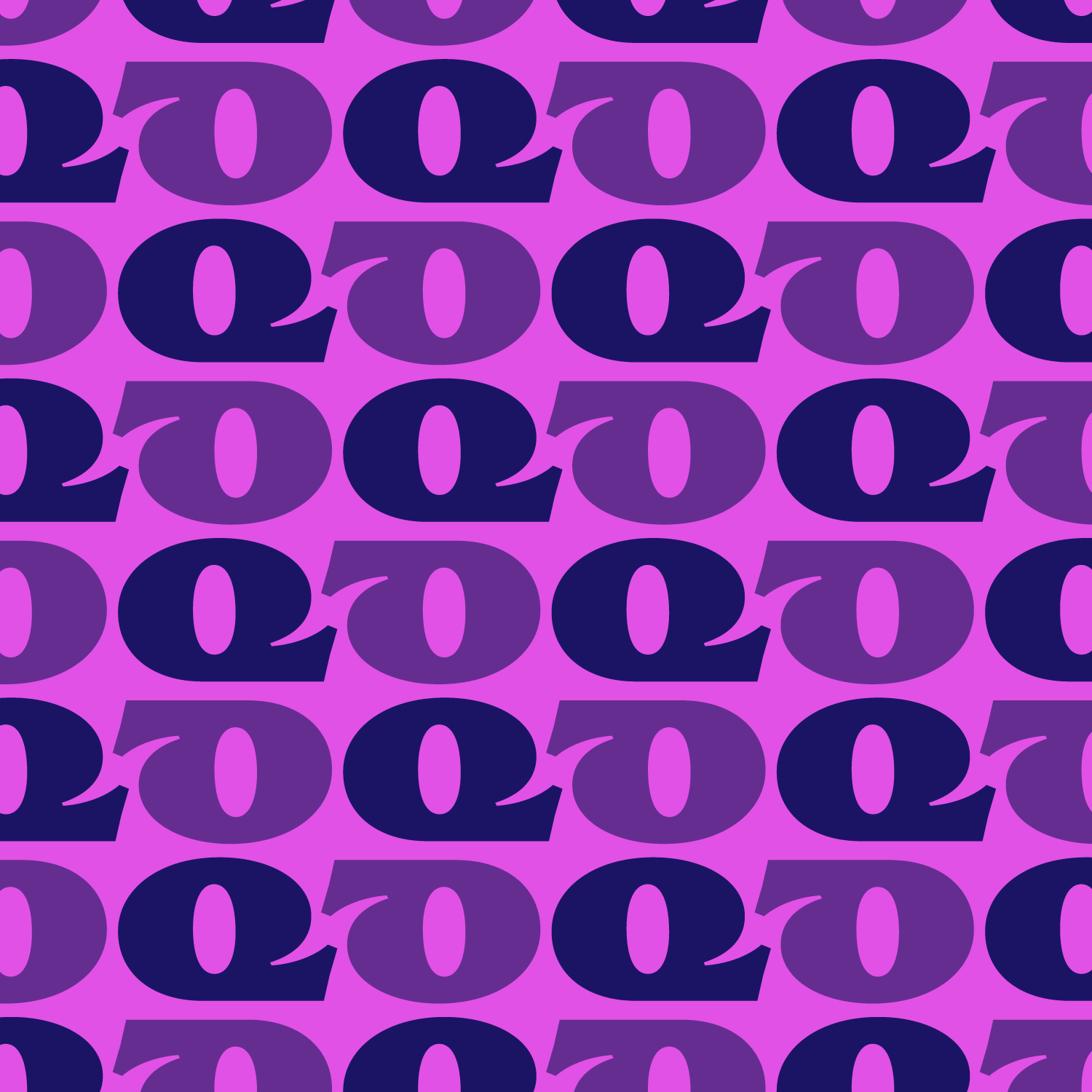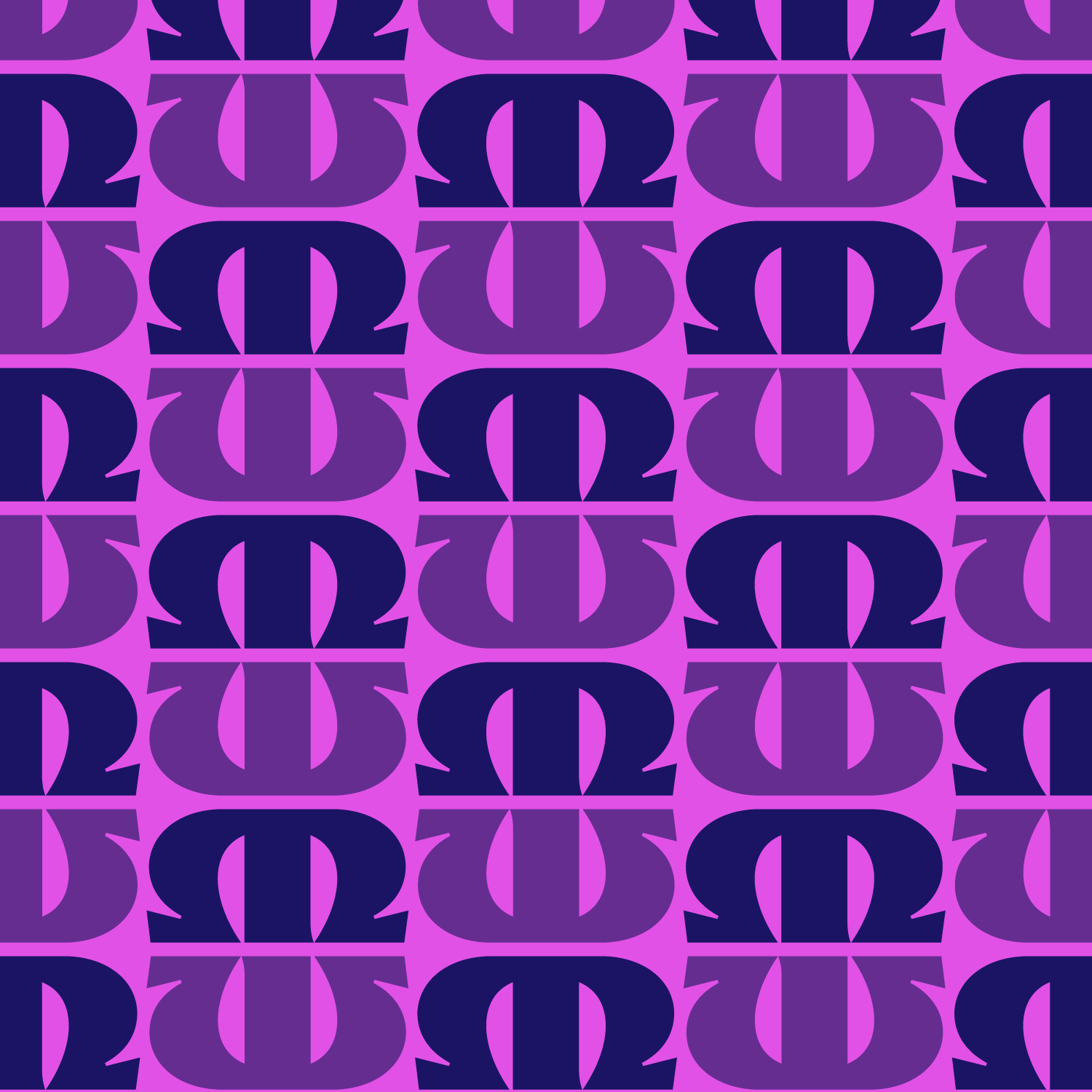 Klooster: December's Font of the Month
The uncial script was a particularly interesting step in the evolution of the Latin alphabet. Characterized by round, open forms, some uncial letters resemble Roman capitals as we know them today, while others begin to lean towards the forms that would eventually become our lowercase.
While uncials date back to the fourth century, the inspiration for Klooster is much more recent. Flipping through a friend's copy of the D. Giltay Veth's 1950 book, Dutch Bookplates: A selection of modern woodcuts & wood engravings, I was struck by the expressive energy of the woodcut lettering, particularly in the uncial-esque ex-libris of A.J.E. van den Muijsenbergh.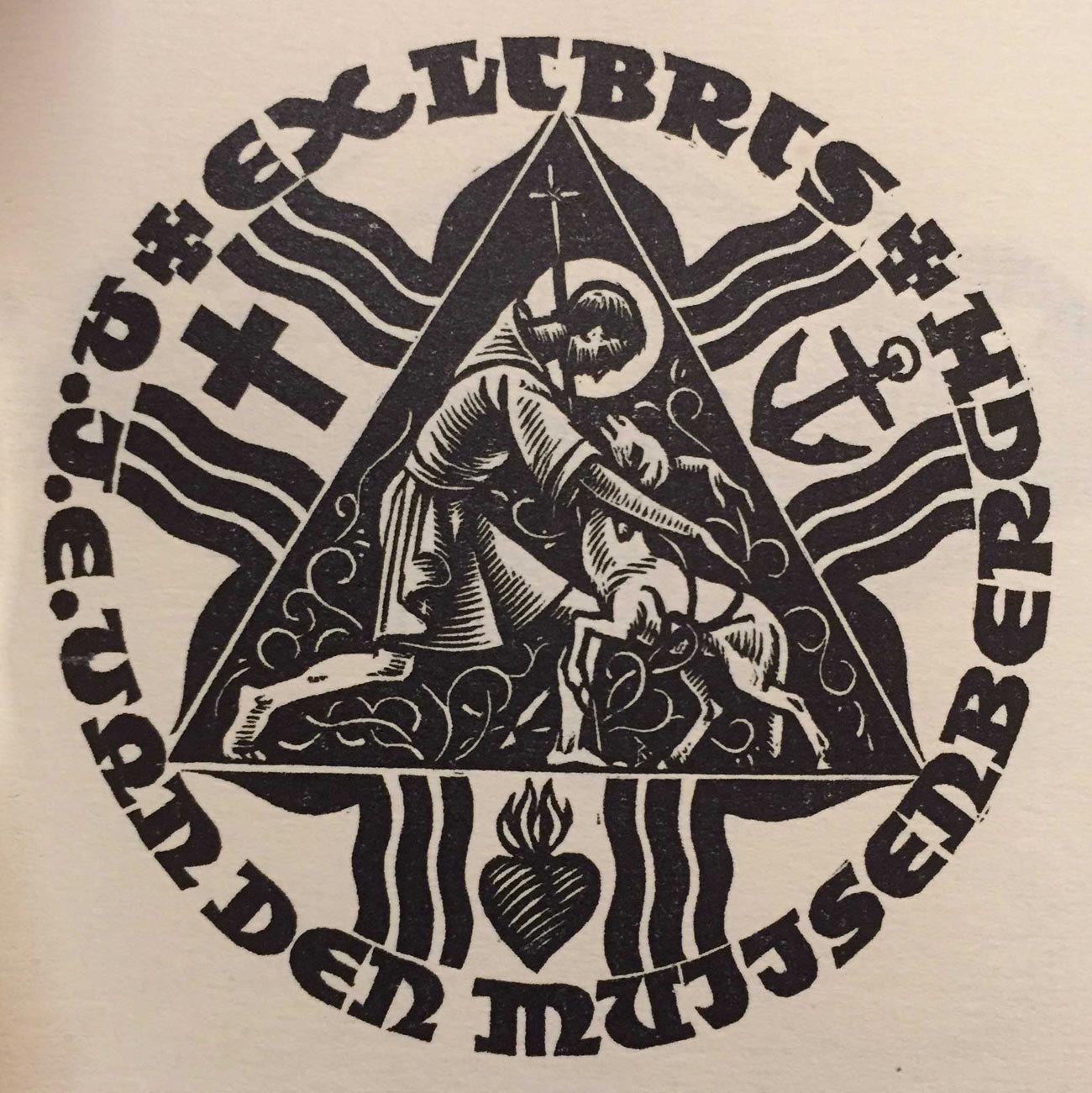 A.J.E. van den Muijsenbergh, from Dutch Bookplates by D. Giltay Veth
Even though this typeface ended up looking pretty different from the bookplate that inspired it, I sought to capture a bit of that rawness and angularity in Klooster's loose drawing style. I also gave the face a fair amount of width and bulk, which I think adds to its expressive potential. And it comes with an assortment of alternates, which you can utilize to fine-tune the placement of ascenders, descenders, and uncial forms in your text.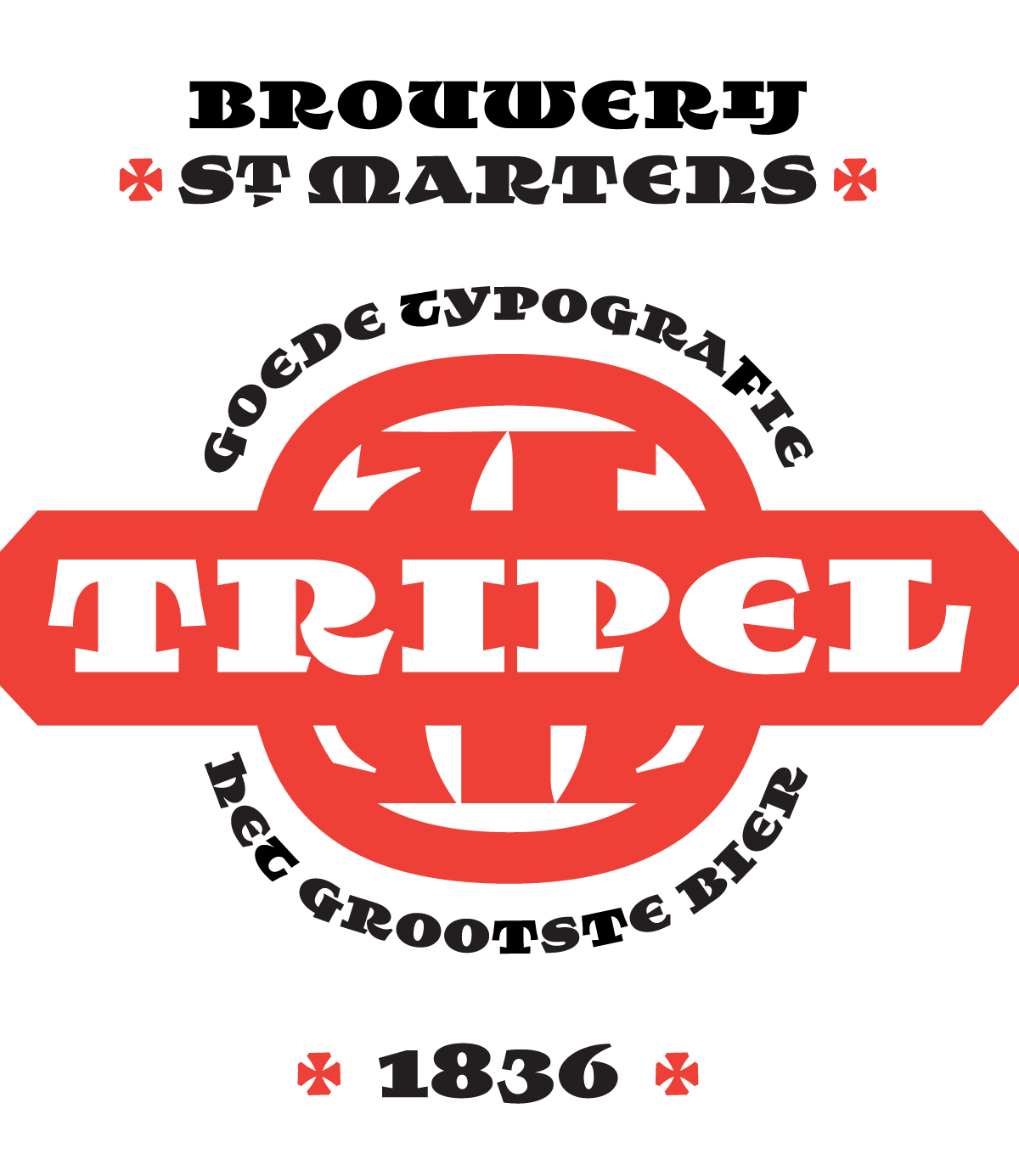 When designing this typeface, my imagined ideal use for it was on the packaging of a beer brewed by monks. So I dubbed it Klooster, the Dutch word for monastery. Klooster is the final Font of the Month Club installment for 2017, but I am already hard at work on a variety of projects for the coming year. Think about joining the club today!
Roslindale is back!
Six months ago, I had the pleasure of sending a bold display cut of Roslindale to the fine members of the Font of the Month Club. This month, I followed up with Roslindale Text, designed specifically for extended reading.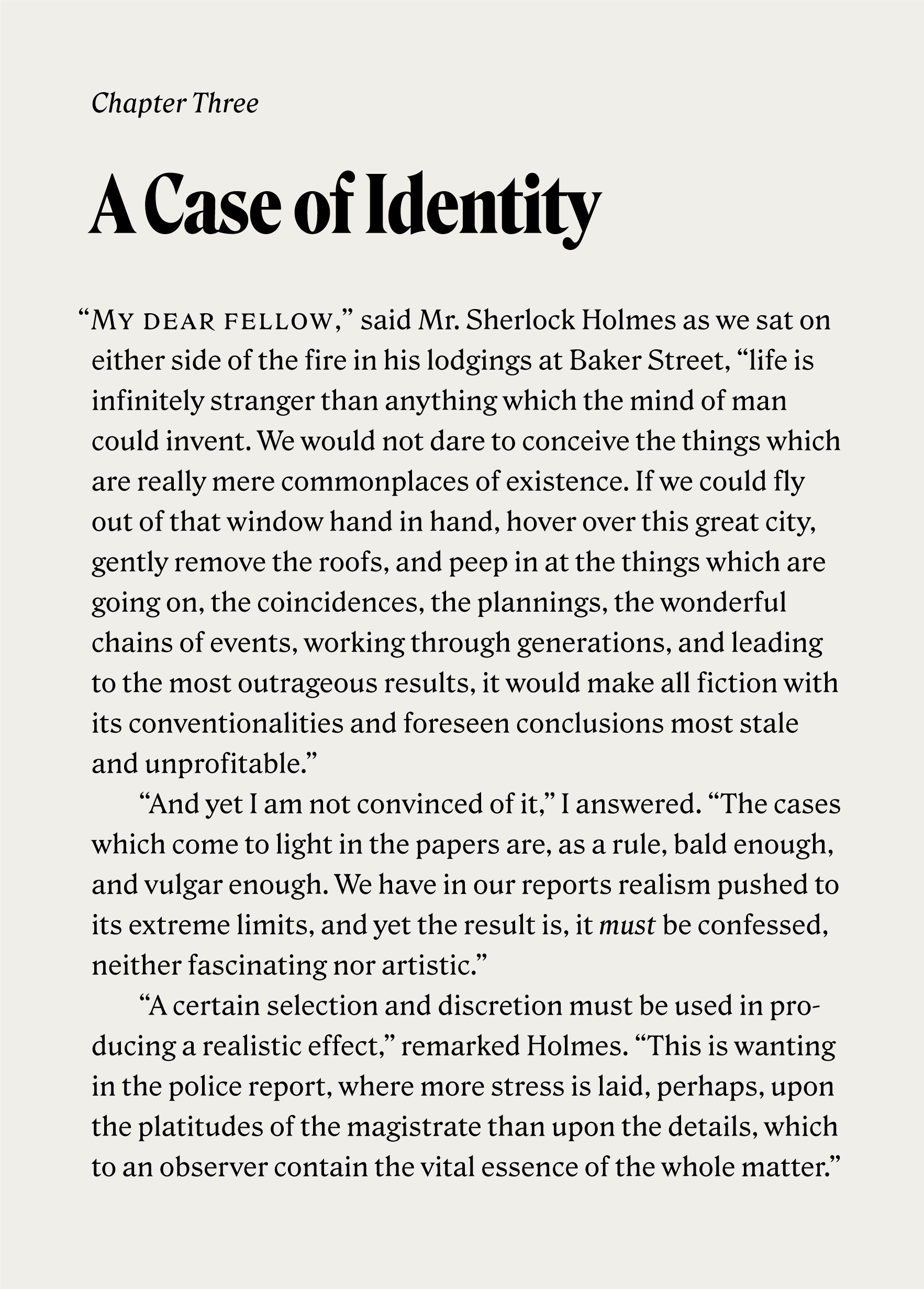 Like its headline companion, Roslindale Text takes its inspiration from De Vinne, a Victorian oldstyle with heavily bracketed serifs and a distinctive diagonal stress. De Vinne was designed in the 1890s by Gustav Schroeder and Nicholas Werner of the Central Type Foundry, and was named for the famed nineteenth century printer Theodore Low De Vinne.
I didn't see much precedent out there for Italics in the De Vinne style, so as a result Roslindale Text's italic is mostly improvised. I probably could have done more research, but sometimes it is nice to just get drawing.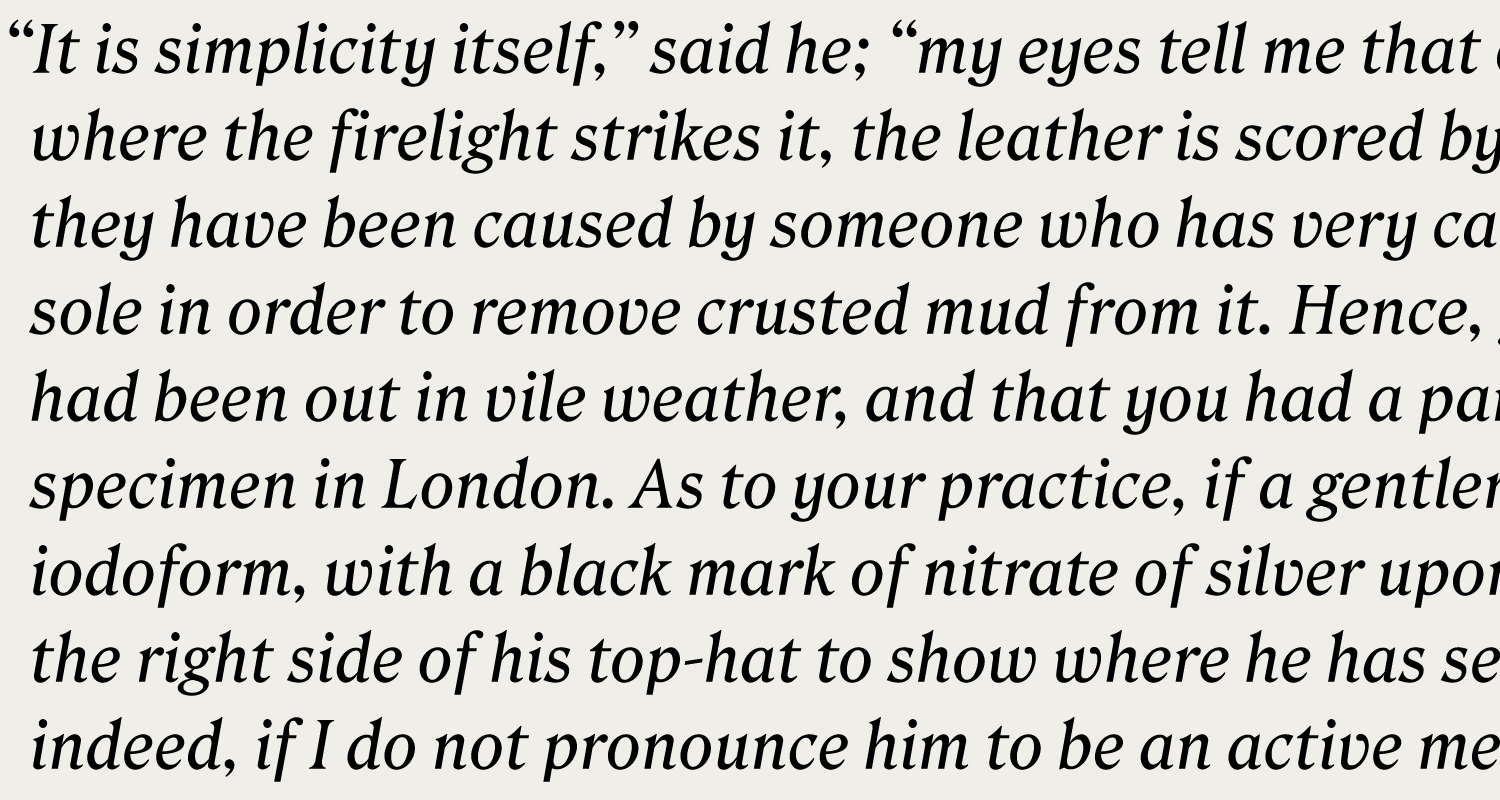 The trickiest part of this design was striking the right balance between utility and flavor. I didn't want to distill all of the De Vinne-ness out of this design, but I knew it needed to be palatable in paragraphs. In addition to the italic, I also added small caps which are well-suited to the design's Victorian charm. Overall, it is still very much a work in progress, but I feel like it is finally coming together.
Font of the Month Club has been mostly focused on display typography, and I hope that the members enjoyed this little departure into the realm of text. Roslindale's original Condensed Display is still available as a back issue, so you can sign up today and get the whole family, either for yourself or as a gift for your favorite font aficionado!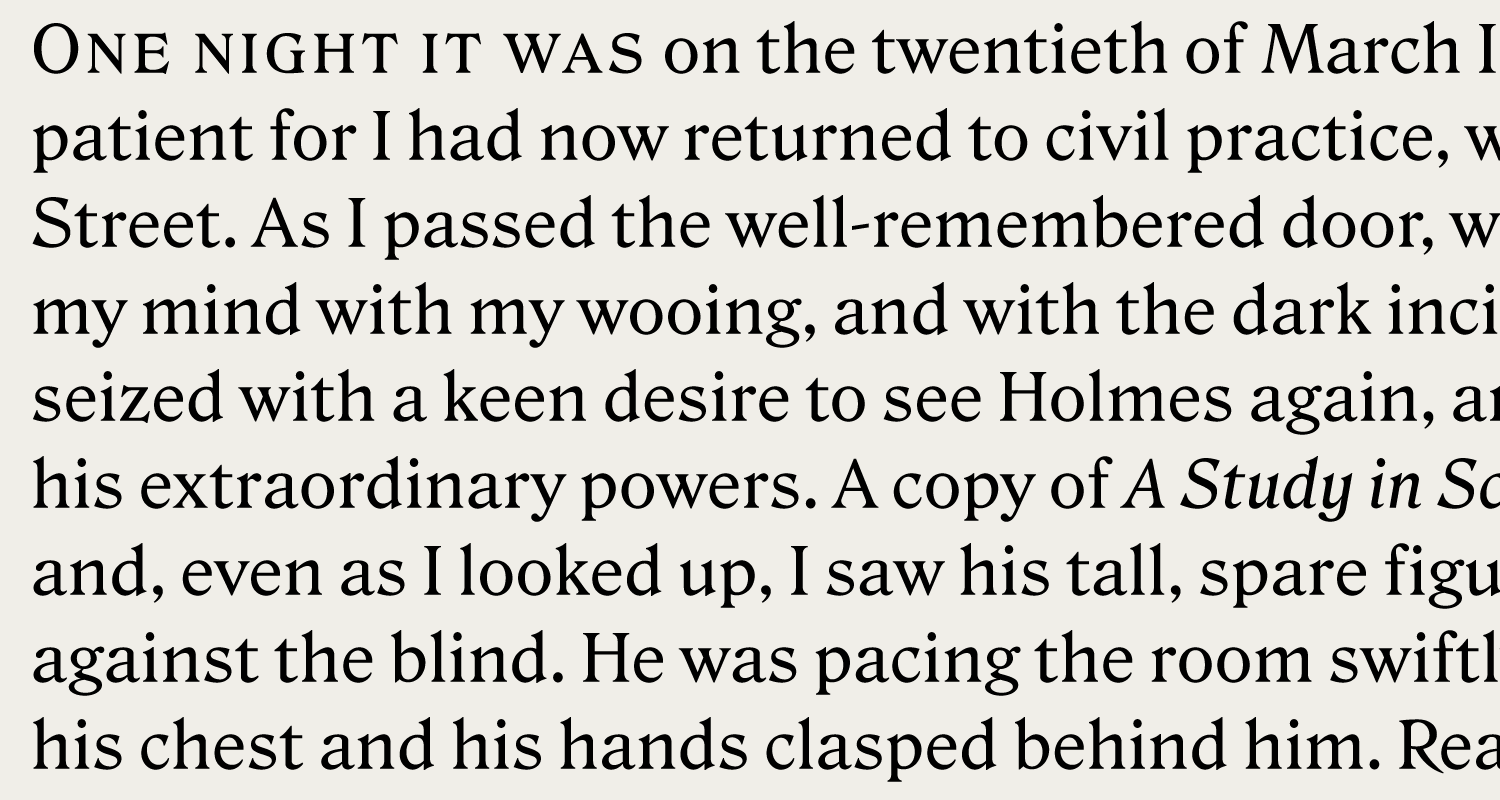 Pappardelle!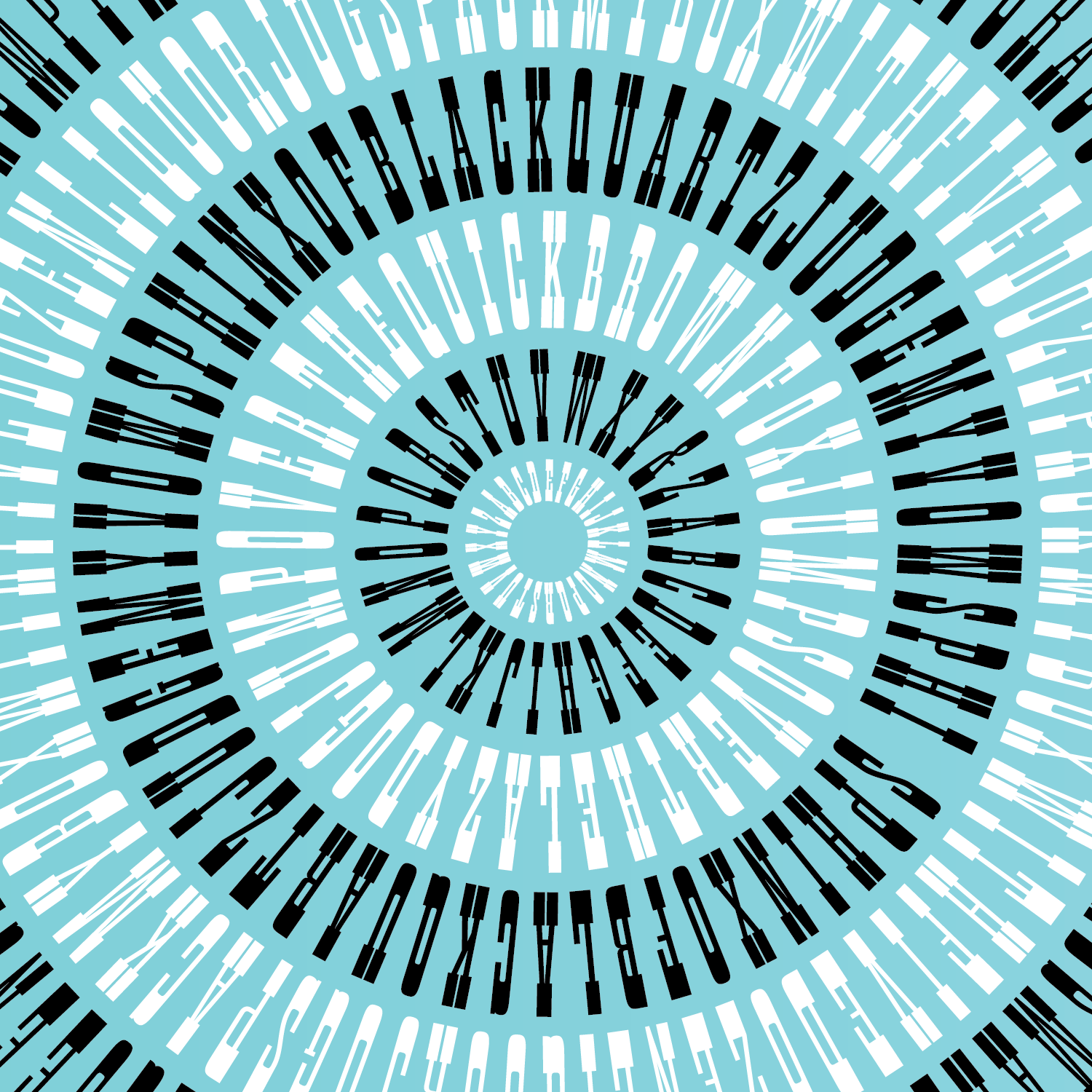 You might have wondered about the condensed slab serif on your Font of the Month Club membership card, so maybe you saw this one coming. But to celebrate six months of this club's existence, I decided it was time to let Papardelle loose and see what the club will do with it.
Papardelle is a twentieth century take on the French Antique genre, following in the footsteps of faces like Playbill, Figaro, and Pro Arte. The direct inspiration for this typeface was Herbert Matter's branding for the Knoll furniture company. Like its exemplars, Papardelle has less of the Wild West in it, and is more of a modernist appreciation of the formal game that horizontal stress can play with the Latin alphabet.
You might have been taught that it's never a good idea to add letter spacing to lowercase, but here is the exception. I love how this typeface looks with a generous heaping of tracking, big and small(ish), uppercase and lowercase. Some space between the letters really accentuates the stacatto rhythms of the design.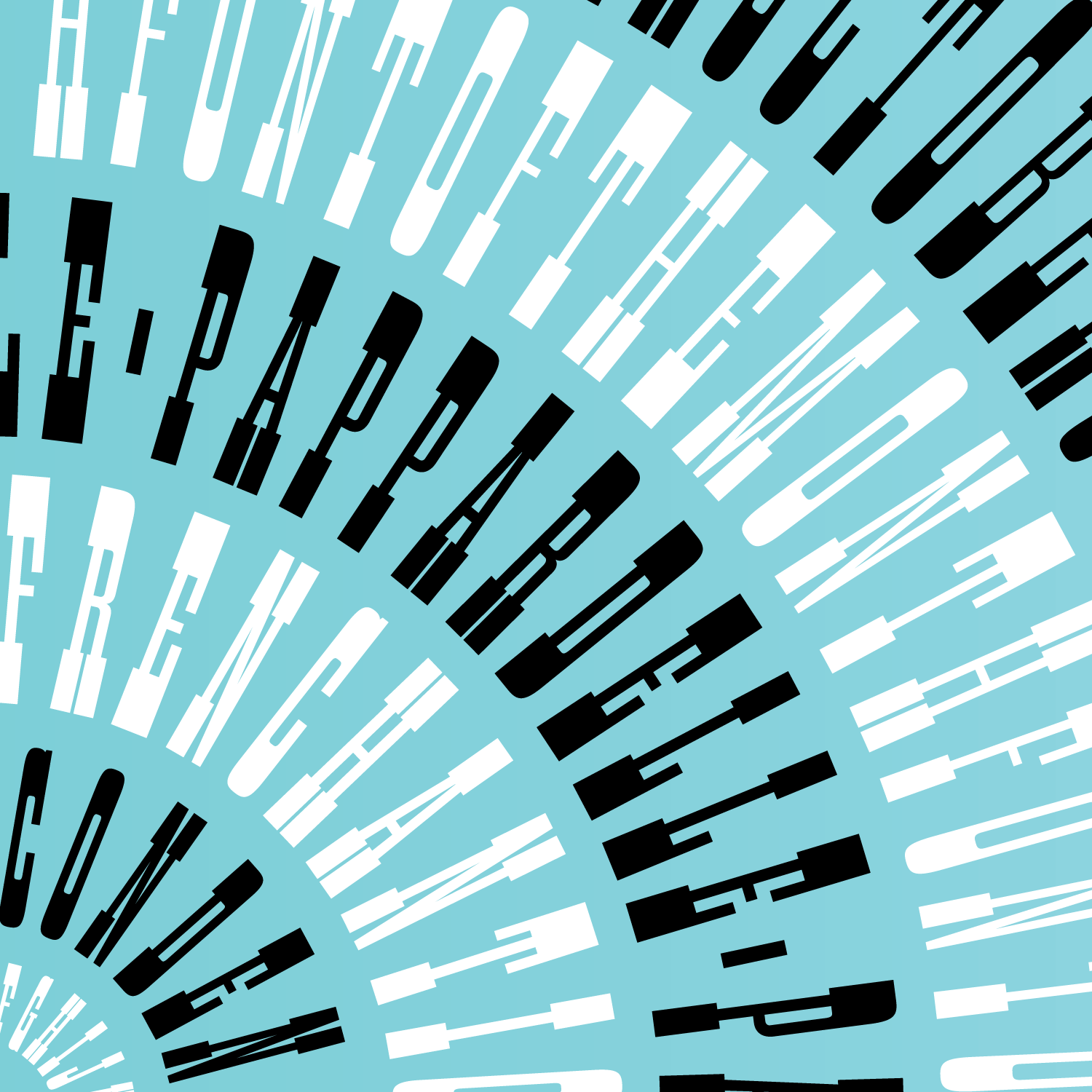 And, in commemoration of the recent release of the first shipping browsers to support OpenType variations, Pappardelle also comes in the new format. It has a variable axis that controls the contrast between the thicks and thins. A font of the Month Club first!
Note: This post is backdated so that it appears in the correct sequence on this blog.
Building Bild
As September winds down, I wanted to jot down a few notes on Bild, the chunky, narrow sans that I distributed to Font of the Month Club. (There are two more days left in the month, so sign up now and get your own copy!)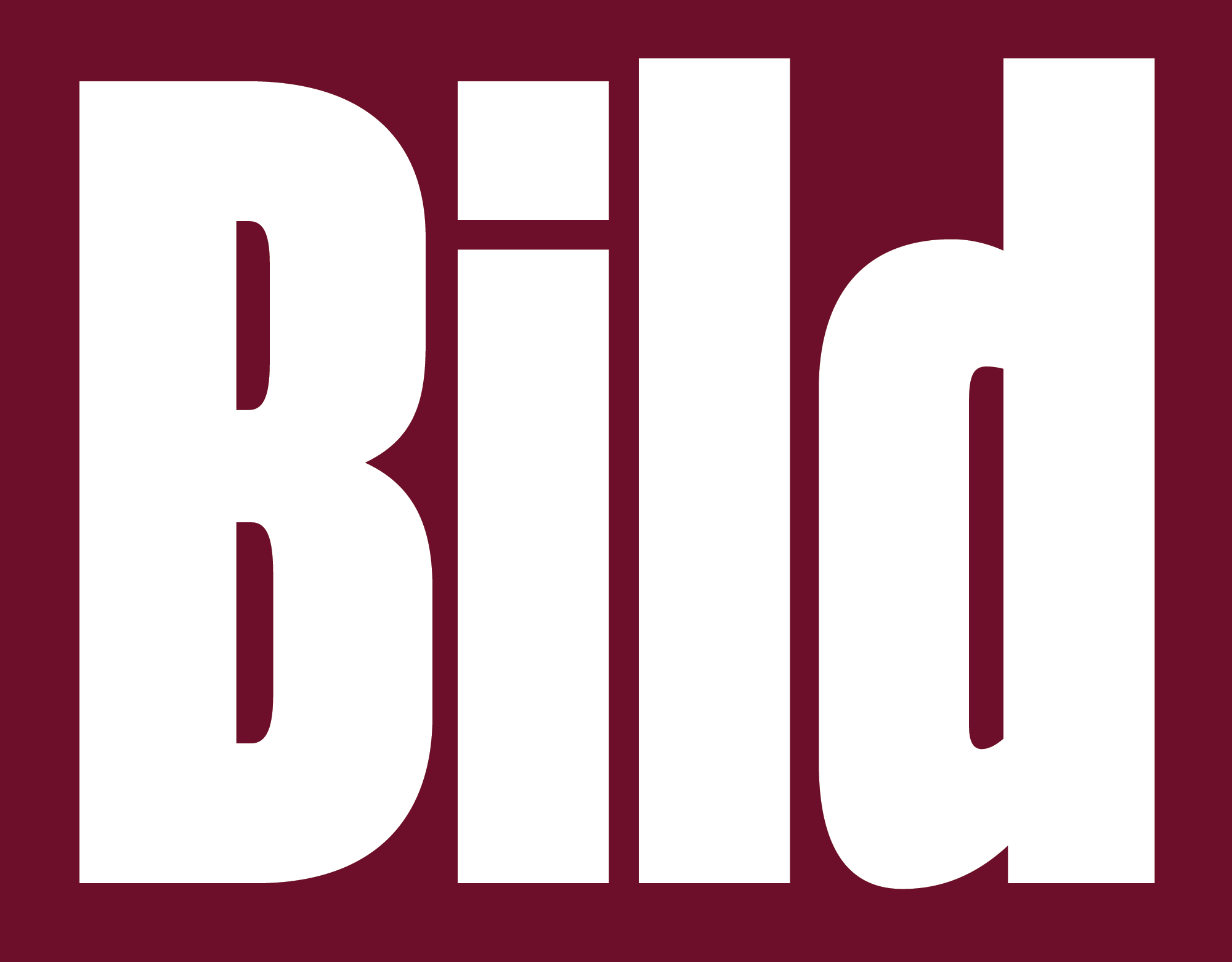 If you look at Jackson Burke's seminal Trade Gothic family, you will notice that a couple of the weights don't quite fit in. They are clunkier and more condensed, with echoes of Alternate Gothic and ATF Railroad Gothic.
I originally started drawing Bild in 2012 when Sam Berlow suggested that I check out these weights to use as source material for a new design. I kind of took the freeform approach, but without much in the way of scans or specimens. Bild, the typeface that emerged from these sketches, builds upon the stylistic features of these outliers in the pursuit of a singular goal: to set dense, punchy headlines.
Sure there are already a lot of condensed sans serifs out there, but what I like about this one is that it walks the line between structured and organic. For every straight-sided curve or rigid shape present in the typeface, there is also a grotty detail to liven things up. Curvy shapes like the S or the bowl of the a break up Bild's mechanical regularity. The closed-in terminals vary in length, and not one of them ends on a true horizontal.
Bild's Black Compressed style is part of a larger series of widths and weights that has been sitting on my desktop for far too long. I'm hoping that my work on this preview weight will give me the kick in the butt I need to work on more of the typeface.
Oh, and one last thing: the name Bild isn't a typo; it means image in German. Thanks to Indra Kupferschmid for suggesting it!